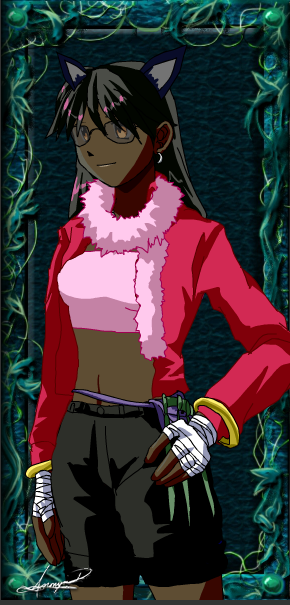 Main Info
Edit
Age: 19
Height: 5 ft 4
Normal Human, African American
Karma: Good
Abilities
Edit
Durability
Intense Mental Strength
High Intelligence
Combat w/martial arts and poisoned throwing knives (Third Dan Black Belt in Aikido)
Medical expert
Personality
Edit
Distant, distrustful, and depressed at the beginning, she becomes much more outgoing, friendly, and begins to deck herself out with whatever she can find, as she discovers her desire for fashion. She becomes more caring and compassionate/empathic with the people she meets.
Background
Edit
Alyssa was out to do some grocery shopping when the Empire City Blast hit, she miraculously survived, but was heavily injured. She is healed by Rowan, and is eventually awoken by holding the flute. Alyssa, in gratitude, shares a shy kiss with Rowan, after hearing of what happened and how he saved her. They become good friends, and Alyssa eventually reveals she is a Third Dan Black Belt in Aikido. She is very interested in Rowan's powers, and has developed ear plugs for herself that negate the effects of the flute, so she isn't affected while fighting with Rowan. They are currently exploring the chaos after the blast, in order to survive. 
Weapon Inventory
Edit
Disclaimer
Edit
This character belongs to Miraibuu. All other rights are reserved to their respective owners for the pictures/ picture dev tools.